Pre-Installation Job Setup... Why It's Important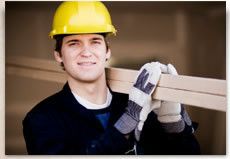 Obtain Necessary Building Permits
• Makes sure the job meets local building codes
• Assures I am licensed to work in your local community
• Avoids fines for you
• Avoids unnecessary cost of corrective construction


Schedule The Job
• Lets you plan for your new roof.
• Reconfirming night before job starts avoids last minute scheduling conflicts with you.
• Makes sure the job is complete and on-time.

Hold Pre-Job Meeting
• Review basic and job-specific safety issues to prevent accidents.

Confirm Proper Material Delivered
• Makes sure I'm installing what you asked for.
• Allows job to start and proceed on schedule.
• Assures the material is not damaged.

Properly Store Material
• Protect the shingles and other products from damage before the products are installed.
• Keep the house and yard neat and safe during the entire roofing project.

Necessary Equipment At Job Site
• Avoids installation delays.
• Right tools allow for correct installation.

Protect House and Landscaping
• Cover shrubs and pool to prevent any damage.
• Install chutes and tarps to prevent any damage to the exterior of your home.